---
-5% Waardebon: "KBSPROMO5" geldig op alle artikelen met een waarde van 150,00€ of meer. Uitsluitend te gebruiken bij het afrekenen in onze winkel.
* incl. totaal Btw. excl. Verzendkosten
Yedoo is een relatief jong merk, maar levert kwalitatief sterke steps voor eengoede prijs. Deze TidiT kinderstep is geschikt voor kinderen vanaf ca. 5 jaar oud (of 115 cm)en gaat zeker mee tot een jaar of 7/8 jaar oud. De brede 12 inch luchtbanden van de Tidit rijden prettig op allerlei verschillende ondergronden.Ook wat langere afstanden, bijvoorbeeld naar school of sportclub toe steppen, is geen enkel probleem met deze Yedoo Tidit kinderstep.
De breedte van het stuur is van belang. Deze step heeft een stuur met een breedte van 53 cm. Kinderen moeten goed het stuur kunnenvasthouden,de handen mogen niet teveel naar 'buiten' geplaatst moeten worden omdat het stuur te breed is.Mocht dit stuur te breed zijn dan is de kleinere variant, de Yedoo Mau, wellicht een geschiktere keuze.
Technische eigenschappen
Wielen: 12 inch aluminium
Leeftijd: vanaf 5 jaar of 115 cm
Plankhoogte: ca.9 cm
Frame: Hi-ten stalen frame
Gewicht: 7,5 kg
Lengte: 120 cm
Stuurbreedte 53 cm
Max. toelaatbaar gewicht:100 kg
Standaard: ja
Handrem: 2x V-brake handrem
Verstelbaar stuur: 75 cm / 87 cm
Velgen: velg met spaken
Kleur: tealblue (donker turquoise)
Spatborden: nee, wel optioneel
Age 5+
Loading limit 90 kg / 200 lb
Min. height of rider 110 cm / 43 in
Weight (with/without kickstand) 7,1 / 6,9 kg // 15.6 / 15.2 lb
Box size 85 x 16 x 52,5 cm (33.5 x 6.3 x 20.7 in)
Box weight 8,6 kg / 19 lb
Frame YEDOO Hi-ten steel
Fork YEDOO Hi-ten steel
Stem YEDOO Hi-ten steel 22,2/25,4
Handlebar YEDOO Hi-ten steel
Grips Molded handles with wider endings, Yedoo
Headset NECO steel 1" threaded
Brake levers 2x TEKTRO alloy
Brakes (front/rear) 2x "V" TEKTRO alloy
Wheels 12" / 12"
Rims HJC alloy
Hubs JOYTECH steel
Hub width (front/rear) 74 / 74 mm // 2.9 / 2.9 in
Bearings Conical
Quick-release levers (front/rear) No / No
Tyres (front/rear) KENDA 12x2,25 / 12x2,25
Max. inflation (front/rear) 5,5 bar / 5,5 bar
Preparation for bottle holder 1x
Kickstand Yedoo central, integrated
Reflective elements On the handlebar cover and tyres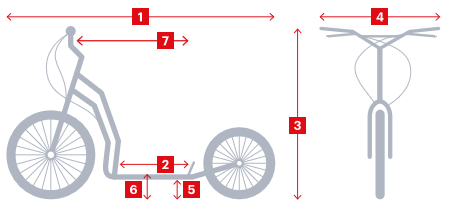 [1] Length 113 cm / 44.5 in
[2] Footboard 34 cm / 13.4 in
[3] Handlebar height 75 - 84 cm / 29.5 - 33.1 in
[4] Width of handlebars 54 cm / 21.3 in
[5] Ride height (higher/lower position) 4.4 cm / 1.7 in
[6] Distance between footboard and ground (higher/lower position) 7.5 cm / 3 in
[7] Room for rider 47 cm / 18.5 in