---
if(!document.getElementById('paypal-smart-payment-script')) { var script = document.createElement("script"); script.type = "module"; script.id = "paypal-smart-payment-script"; script.src = "https://cdn02.plentymarkets.com/luxn8kd69vu5/plugin/11/paypal/js/smartPaymentScript.js"; script.setAttribute("data-client-id", "AceTVjFsjfRQtSmjeZG20pC1evOBa1NLHjevipevkadsgmz_3MpPEcF3pGdrCLsoAvmp5-UlJjiPYONx"); script.setAttribute("data-currency", "EUR"); script.setAttribute("data-client-token", "eyJicmFpbnRyZWUiOnsiYXV0aG9yaXphdGlvbkZpbmdlcnByaW50IjoiZDI1Y2Y4MWQ4NmE3NDRiNDk2OGRkMjcxMmIxZjAxMTI5NjBkOWNiYTcxMzQ1NjQzNjYzMGU4NWU3NTlmNTRmOXxtZXJjaGFudF9pZD1yd3dua3FnMnhnNTZobTJuJnB1YmxpY19rZXk9ajJmYzJqcHhkZzZ2cDg0ZiZjcmVhdGVkX2F0PTIwMjMtMDItMDRUMTE6MjY6MzEuODQ1WiIsInZlcnNpb24iOiIzLXBheXBhbCJ9LCJwYXlwYWwiOnsiaWRUb2tlbiI6bnVsbCwiYWNjZXNzVG9rZW4iOiJBMjFBQVA1cHZXNnRBSkE5bGY0ZFByZUJqQlhPMTQwbmhQOGthaTNOb1VvX1llT3hyVzgyTC0wWXRidjRIWWRPZkNxcmI3ZDh5OWQ5RW5mV3NUaGI0QjFDNUg0bFdWdzN3In19"); script.setAttribute("data-append-trailing-slash", "true"); script.setAttribute("data-locale", "en_GB"); document.body.appendChild(script); }
if(typeof renderPayPalButtons === 'function') { renderPayPalButtons('63de41c51a2fd', 'paylater', 'paypal', 'rect', 'gold'); } else { document.addEventListener('payPalScriptInitialized', () => { renderPayPalButtons('63de41c51a2fd', 'paylater', 'paypal', 'rect', 'gold'); }); }
-5% Voucher code: "KBSPROMO5" applicable to all Items with a shopping cart value 150,00€ or more. Valid only at our shop checkout.
* Incl. VAT excl. Shipping
A city sportsman as well as a seasoned outdoor type, the S2016 has some of that spirit of the adventurers. He resigns at no obstacle and will get you out of every puddle, from hairpin bends in the mountains to potholes on field roads. And he will always find his way into the luggage compartment.
Technical details
Loading limit 150 kg
Min. height of rider 130 cm
Weight (with/without kickstand) 9,0 kg
Box size 110 x 15,5 x 64 cm
Box weight 11,3 kg
Frame YEDOO Hi-ten steel
Fork YEDOO Hi-ten steel
Stem ZOOM alloy
Handlebar YEDOO Cross alloy
Grips Ergonomic (with anti-rotation lock)
Bar ends Optional
Headset NECO alloy 1 1/8" threaded
Brake levers TEKTRO ML 520 alloy
Brakes (front/rear) "V" TEKTRO alloy/"V" TEKTRO alloy
Wheels 20"/16"
Rims HJC alloy double wall + CNC milled braking surface
Hubs NOVATEC alloy
Hub width (front/rear) 74 / 74 mm // 2.9 / 2.9 in
Bearings Industrial
Quick-release levers (front/rear) Yes / Yes
Tyres (front/rear) KENDA
Max. inflation (front/rear) 4,6 bar / 4,6 bar
Preparation for bottle holder 1x
Kickstand Optional
Reflective elements No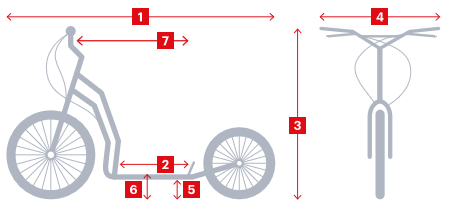 [1] Length 149 cm / 58.7 in
[2] Footboard 40 cm / 15.7 in
[3] Handlebar height 92 - 98 cm / 36.2 - 38.6 in
[4] Width of handlebars 64 cm / 25.2 in
[5] Ride height (higher/lower position) 4,0 / 6,0 cm // 1.6 / 2.4 in
[6] Distance between footboard and ground (higher/lower position) 6,8 / 8,8 cm // 2.7 - 3.5 in
[7] Room for rider 63 cm / 24.8 in