---
if(!document.getElementById('paypal-smart-payment-script')) { var script = document.createElement("script"); script.type = "module"; script.id = "paypal-smart-payment-script"; script.src = "https://cdn02.plentymarkets.com/luxn8kd69vu5/plugin/11/paypal/js/smartPaymentScript.js"; script.setAttribute("data-client-id", "AceTVjFsjfRQtSmjeZG20pC1evOBa1NLHjevipevkadsgmz_3MpPEcF3pGdrCLsoAvmp5-UlJjiPYONx"); script.setAttribute("data-currency", "EUR"); script.setAttribute("data-client-token", "eyJicmFpbnRyZWUiOnsiYXV0aG9yaXphdGlvbkZpbmdlcnByaW50IjoiNjY0YTA1MzFjYzJkNWJmMGY4ZDRhMzNhODYzZDFlODkyNmJmMmI2ZDA1NTlkNzc5MjEyZGM1MjUyMmJjMzk3MXxtZXJjaGFudF9pZD1yd3dua3FnMnhnNTZobTJuJnB1YmxpY19rZXk9ajJmYzJqcHhkZzZ2cDg0ZiZjcmVhdGVkX2F0PTIwMjMtMDMtMjlUMDM6Mjc6MDUuMDgyWiIsInZlcnNpb24iOiIzLXBheXBhbCJ9LCJwYXlwYWwiOnsiaWRUb2tlbiI6bnVsbCwiYWNjZXNzVG9rZW4iOiJBMjFBQU1TS0VuLXUyd2JkZHBJWGJWYXFnRUdPMmxuUDNiSEFJdlNzMG9odWxqVEZmek1XSHRiaEpNaTNGekR1WEJqa0psU1d2STdVYVRHeklHa1dLOUpQRXo0MU5OWFNRIn19"); script.setAttribute("data-append-trailing-slash", "true"); script.setAttribute("data-locale", "en_GB"); document.body.appendChild(script); } else { var script = document.getElementById('paypal-smart-payment-script'); script.setAttribute("data-client-id", "AceTVjFsjfRQtSmjeZG20pC1evOBa1NLHjevipevkadsgmz_3MpPEcF3pGdrCLsoAvmp5-UlJjiPYONx"); script.setAttribute("data-currency", "EUR"); script.setAttribute("data-client-token", "eyJicmFpbnRyZWUiOnsiYXV0aG9yaXphdGlvbkZpbmdlcnByaW50IjoiNjY0YTA1MzFjYzJkNWJmMGY4ZDRhMzNhODYzZDFlODkyNmJmMmI2ZDA1NTlkNzc5MjEyZGM1MjUyMmJjMzk3MXxtZXJjaGFudF9pZD1yd3dua3FnMnhnNTZobTJuJnB1YmxpY19rZXk9ajJmYzJqcHhkZzZ2cDg0ZiZjcmVhdGVkX2F0PTIwMjMtMDMtMjlUMDM6Mjc6MDUuMDgyWiIsInZlcnNpb24iOiIzLXBheXBhbCJ9LCJwYXlwYWwiOnsiaWRUb2tlbiI6bnVsbCwiYWNjZXNzVG9rZW4iOiJBMjFBQU1TS0VuLXUyd2JkZHBJWGJWYXFnRUdPMmxuUDNiSEFJdlNzMG9odWxqVEZmek1XSHRiaEpNaTNGekR1WEJqa0psU1d2STdVYVRHeklHa1dLOUpQRXo0MU5OWFNRIn19"); script.setAttribute("data-append-trailing-slash", "true"); script.setAttribute("data-locale", "en_GB"); }
if(typeof renderPayPalButtons === 'function') { renderPayPalButtons('6423b39782009', 'paylater', 'paypal', 'rect', 'gold'); } else { document.addEventListener('payPalScriptInitialized', () => { renderPayPalButtons('6423b39782009', 'paylater', 'paypal', 'rect', 'gold'); }); }
-5% Voucher code: "KBSPROMO5" applicable to all Items with a shopping cart value 150,00€ or more. Valid only at our shop checkout.
* Incl. VAT excl. Shipping
Yedoo is een relatief jong merk, maar levert kwalitatief sterke steps voor een prima prijs.">Yedoo is a relatively young brand, but delivers unequaledscooters for a great price. Deze TidiT kinderstep is geschikt voor kinderen vanaf ca. 5 jaar oud en gaat zeker mee tot een jaar of 7/8 jaar oud.">This TidiT kids scooter is suitable for children aged 5 years (or 115 cm) and will definitely take up to 7/8 year old. De brede 12 inch luchtbanden van de Tidit rijden prettig op allerlei verschillende ondergronden.">The wide 12-inch tires of the Tidit ensure a pleasant ride on a variety of ground. Ook wat langere afstanden, bijvoorbeeld naar school toe steppen is geen enkel probleem met deze Yedoo Tidit kinderstep.">Even longer distances, for example to go to school, is no problem with the Yedoo Tidit.

De breedte van het stuur is van belang.">The width of thehandlebar isimportant. Deze step heeft een stuur met een breedte van 54 cm.">This step has a handlebar with a width of 53 cm. Kinderen moeten wel goed het stuur kunnen vasthouden, de handen mogen niet teveel naar 'buiten' geplaatst moeten worden omdat het stuur te breed is.">Children should be well able to hold the handlebar easily, the hands must not be placed too much on'outside'. A Mocht dit stuur te breed zijn dan is de kleinere variant, de Yedoo Mau, wellicht een geschiktere keuze.">smaller variant, the Yedoo Mau, is perhaps a more appropriate choice for smaller kids.

Technische eigenschappen:">Technical details
Wielen: 12 inch aluminium">Wheels: 12-inch aluminum
Leeftijd: vanaf 5 jaar of 115 cm">Age: 5 years or 115 cm
Plankhoogte: ca. 10 cm">Footboard height:9 cm
Frame: Hi-ten stalen frame">Frame: Hi-Ten steel frame
Gewicht: 7,5 kg">Weight: 7.5kg
Lengte: 118 cm, stuurbreedte 54 cm">Height:120 cm
Lengte: 118 cm, stuurbreedte 54 cm">Handlebar width: 53 cm
Max.">Max.toelaatbaar gewicht: 100 kg">weight rider:100 kg
Standaard: ja">Stand: yes
Handrem: 1 V-brake handrem">Brake: 2x V-brake brake
Verstelbaar stuur: 74 cm / 86 cm">Adjustable handlebar: 75 cm / 87 cm
Velgen: velg met spaken">Rims: rim with spokes
Kleur: blauw">Color: tealblue
Spatborden: niet standaard, wel optioneel te bestellen">Fenders: no, but optional
Age 5+
Loading limit 90 kg / 200 lb
Min. height of rider 110 cm / 43 in
Weight (with/without kickstand) 7,1 / 6,9 kg // 15.6 / 15.2 lb
Box size 85 x 16 x 52,5 cm (33.5 x 6.3 x 20.7 in)
Box weight 8,6 kg / 19 lb
Frame YEDOO Hi-ten steel
Fork YEDOO Hi-ten steel
Stem YEDOO Hi-ten steel 22,2/25,4
Handlebar YEDOO Hi-ten steel
Grips Molded handles with wider endings, Yedoo
Headset NECO steel 1" threaded
Brake levers 2x TEKTRO alloy
Brakes (front/rear) 2x "V" TEKTRO alloy
Wheels 12" / 12"
Rims HJC alloy
Hubs JOYTECH steel
Hub width (front/rear) 74 / 74 mm // 2.9 / 2.9 in
Bearings Conical
Quick-release levers (front/rear) No / No
Tyres (front/rear) KENDA 12x2,25 / 12x2,25
Max. inflation (front/rear) 5,5 bar / 5,5 bar
Preparation for bottle holder 1x
Kickstand Yedoo central, integrated
Reflective elements On the handlebar cover and tyres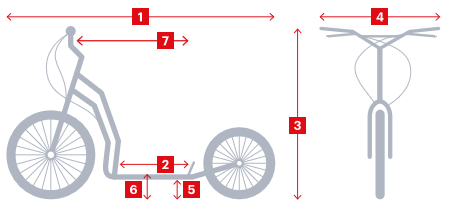 [1] Length 113 cm / 44.5 in
[2] Footboard 34 cm / 13.4 in
[3] Handlebar height 75 - 84 cm / 29.5 - 33.1 in
[4] Width of handlebars 54 cm / 21.3 in
[5] Ride height (higher/lower position) 4.4 cm / 1.7 in
[6] Distance between footboard and ground (higher/lower position) 7.5 cm / 3 in
[7] Room for rider 47 cm / 18.5 in