Yedoo New Tidit Candypink
---
-5% Voucher code: "KBSPROMO5" applicable to all Items with a shopping cart value 150,00€ or more. Valid only at our shop checkout.
* Incl. VAT excl. Shipping
Yedoo is a relatively young brand, but supplies high-quality scooters for a good price. This TidiT children's scooter is suitable for children from about 5 years old (or 115 cm) and will certainly last up to a year or 7/8 years old. The wide 12 inch pneumatic tires of the Tidit are pleasant to drive on all kinds of different surfaces. Even longer distances, for example scooters to school or sports club, is no problem at all with this Yedoo Tidit children's scooter.
The width of the handlebar is important. This scooter has a handlebar with a width of 53 cm. Children must be able to hold the handlebars well, their hands should not be placed too much 'out' because the handlebars are too wide. If this handlebar is too wide, the smaller version, the Yedoo Mau, may be a more suitable choice.
Technical properties
Wheels: 12 inch aluminum
Age: from 5 years or 115 cm
Shelf height: approx. 9 cm
Frame: Hi-ten steel frame
Weight: 7.5 kg
Length: 120 cm
Handlebar width 53 cm
Max. permissible weight: 100 kg
Default: yes
Handbrake: 2x V-brake handbrake
Adjustable handlebar: 75 cm / 87 cm
Rims: rim with spokes
Color: tealblue (dark turquoise)
Mudguards: no, but optional
Age 5+
Loading limit 90 kg / 200 lb
Min. height of rider 110 cm / 43 in
Weight (with / without kickstand) 7.1 / 6.9 kg // 15.6 / 15.2 lb
Box size 85 x 16 x 52.5 cm (33.5 x 6.3 x 20.7 in)
Box weight 8.6 kg / 19 lb
Frame YEDOO Hi-ten stem
Fork YEDOO Hi-ten handle
Vote YEDOO Hi-ten stem 22.2 / 25.4
Handlebar YEDOO Hi-ten handle
Grips Molded handles with wider endings, Yedoo
Headset NECO steel 1 "threaded
Brake levers 2x TEKTRO alloy
Brakes (front / rear) 2x "V" TEKTRO alloy
Wheels 12 "/ 12"
Rims HJC alloy
Hubs JOYTECH stem
Hub width (front / rear) 74/74 mm // 2.9 / 2.9 in
Bearings Conical
Quick-release levers (front / rear) No / No
Tires (front / rear) KENDA 12x2.25 / 12x2.25
Max. inflation (front / rear) 5.5 bar / 5.5 bar
Preparation for bottle holder 1x
Kickstand Yedoo central, integrated
Reflective elements On the handlebar cover and tires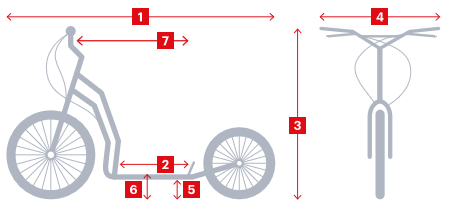 [1] Length 113 cm / 44.5 in
[2] Footboard 34 cm / 13.4 in
[3] Handlebar height 75 - 84 cm / 29.5 - 33.1 in
[4] Width of handlebars 54 cm / 21.3 in
[5] Ride height (higher / lower position) 4.4 cm / 1.7 in
[6] Distance between footboard and ground (higher / lower position) 7.5 cm / 3 in
[7] Room for rider 47 cm / 18.5 in