Yedoo New Mau 12 / 12 Green
---
if(!document.getElementById('paypal-smart-payment-script')) { var script = document.createElement("script"); script.type = "module"; script.id = "paypal-smart-payment-script"; script.src = "https://cdn02.plentymarkets.com/luxn8kd69vu5/plugin/11/paypal/js/smartPaymentScript.js"; script.setAttribute("data-client-id", "AceTVjFsjfRQtSmjeZG20pC1evOBa1NLHjevipevkadsgmz_3MpPEcF3pGdrCLsoAvmp5-UlJjiPYONx"); script.setAttribute("data-currency", "EUR"); script.setAttribute("data-client-token", "eyJicmFpbnRyZWUiOnsiYXV0aG9yaXphdGlvbkZpbmdlcnByaW50IjoiZDI1Y2Y4MWQ4NmE3NDRiNDk2OGRkMjcxMmIxZjAxMTI5NjBkOWNiYTcxMzQ1NjQzNjYzMGU4NWU3NTlmNTRmOXxtZXJjaGFudF9pZD1yd3dua3FnMnhnNTZobTJuJnB1YmxpY19rZXk9ajJmYzJqcHhkZzZ2cDg0ZiZjcmVhdGVkX2F0PTIwMjMtMDItMDRUMTE6MjY6MzEuODQ1WiIsInZlcnNpb24iOiIzLXBheXBhbCJ9LCJwYXlwYWwiOnsiaWRUb2tlbiI6bnVsbCwiYWNjZXNzVG9rZW4iOiJBMjFBQVA1cHZXNnRBSkE5bGY0ZFByZUJqQlhPMTQwbmhQOGthaTNOb1VvX1llT3hyVzgyTC0wWXRidjRIWWRPZkNxcmI3ZDh5OWQ5RW5mV3NUaGI0QjFDNUg0bFdWdzN3In19"); script.setAttribute("data-append-trailing-slash", "true"); script.setAttribute("data-locale", "en_GB"); document.body.appendChild(script); }
if(typeof renderPayPalButtons === 'function') { renderPayPalButtons('63de457359e0a', 'paylater', 'paypal', 'rect', 'gold'); } else { document.addEventListener('payPalScriptInitialized', () => { renderPayPalButtons('63de457359e0a', 'paylater', 'paypal', 'rect', 'gold'); }); }
-5% Voucher code: "KBSPROMO5" applicable to all Items with a shopping cart value 150,00€ or more. Valid only at our shop checkout.
* Incl. VAT excl. Shipping
Truly a fine and strong step for preschoolers from4 years (or approx. 100 cm). The Mau is compact and runs very light. This is because there are no unnecessary accessoriesto it.Quality is guaranteed by the German TÜV quality mark.

Technical features
Wheels: 12-inch aluminum wheels
Footboardheight:9 cm
Frame: Hi-ten steel frame
Weight:6.3 kg
Total length: 113 cm length
Handlebar width: 52 cm
Max. weight: 75 kg
Stand: yes
Brakes: V-brake on the rear wheel
Height adjustable handlebar at least72 cm / up to80 cm

Age 4+
Loading limit 75 kg / 165 lb
Min. height of rider 100 cm / 39 in
Weight (with/without kickstand) 6 / 5,8 kg // 13.2 / 12.8 lb
Box size 85 x 16 x 52,5 cm (33.5 x 6.3 x 20.7 in)
Box weight 7,5 kg / 16.5 lb
Frame YEDOO Hi-ten steel
Fork YEDOO Hi-ten steel
Stem One-piece handlebar and stem
Handlebar YEDOO Hi-ten steel
Grips Molded handles with wider endings, Yedoo
Headset NECO steel 1" threaded
Brake levers 1x TEKTRO alloy
Brakes (front/rear) 1x "V" TEKTRO alloy
Wheels 12" / 12"
Rims HJC alloy
Hubs JOYTECH steel
Hub width (front/rear) 74 / 74 mm // 2.9 / 2.9 in
Bearings Conical
Quick-release levers (front/rear) No / No
Tyres (front/rear) KENDA 12x1,75 / 12x1,75
Max. inflation (front/rear) 4,5 bar / 4,5 bar
Preparation for bottle holder 1x
Kickstand Yedoo central, integrated
Reflective elements On the handlebar cover and tyres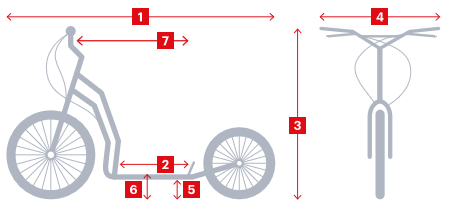 [1] Length 110 cm / 43.3 in
[2] Footboard 34 cm / 13.4 in
[3] Handlebar height 69 - 78 cm / 27.2 - 30.7 in
[4] Width of handlebars 48 cm / 18.9 in
[5] Ride height (higher/lower position) 4 cm / 1.6 in
[6] Distance between footboard and ground (higher/lower position) 6.8 cm / 2.7 in
[7] Room for rider 47 cm / 18.5 in