The Kick Bike Scooter online shop presents you with the best scooters, stunt scooters, city scooters and balance bikes at an extra low price. Here you can find all brands of scooters for under € 150.00. Cheap offers without compromise, quality and fun!
Trick and Freestyle scooters under €150
We present scooters from Yedoo, JD-Bug and the new EU top brand Scoot and Ride. Scooters for kids, young teens, and fun adults. All models cost less than € 150.00. A large part is delivered free of charge across Europe, including a 2-3 year manufacturer's guarantee. We carry the latest releases from the world of scooters and guarantee you a fair, affordable and low price to buy the new scooter online at any time. If you trust in our EU brands, our service and the 1A delivery partners - you will not be disappointed.
Buying a cheap trick scooter or balance bike for under €150,00 online is really fun with the #KBS online shop team. We would be happy to advise you on the perfect scooter for your requirements before purchasing. Are you looking for a cheap scooter for your children? Or are you looking for a stable model for the whole family? Would you like to buy a high-quality but affordable scooter that can be adapted to the kids depending on their height? We have the right scooter for every requirement and for every target group.
By the way, you can always find scooters for adults in the large #KBS Kick Bike Scooter Outlet. We often offer expensive scooters at an extra low price with a discount of 5 - 50% and more. So you can order your adult scooter well below the retail price, maybe even for a mini price of under €150.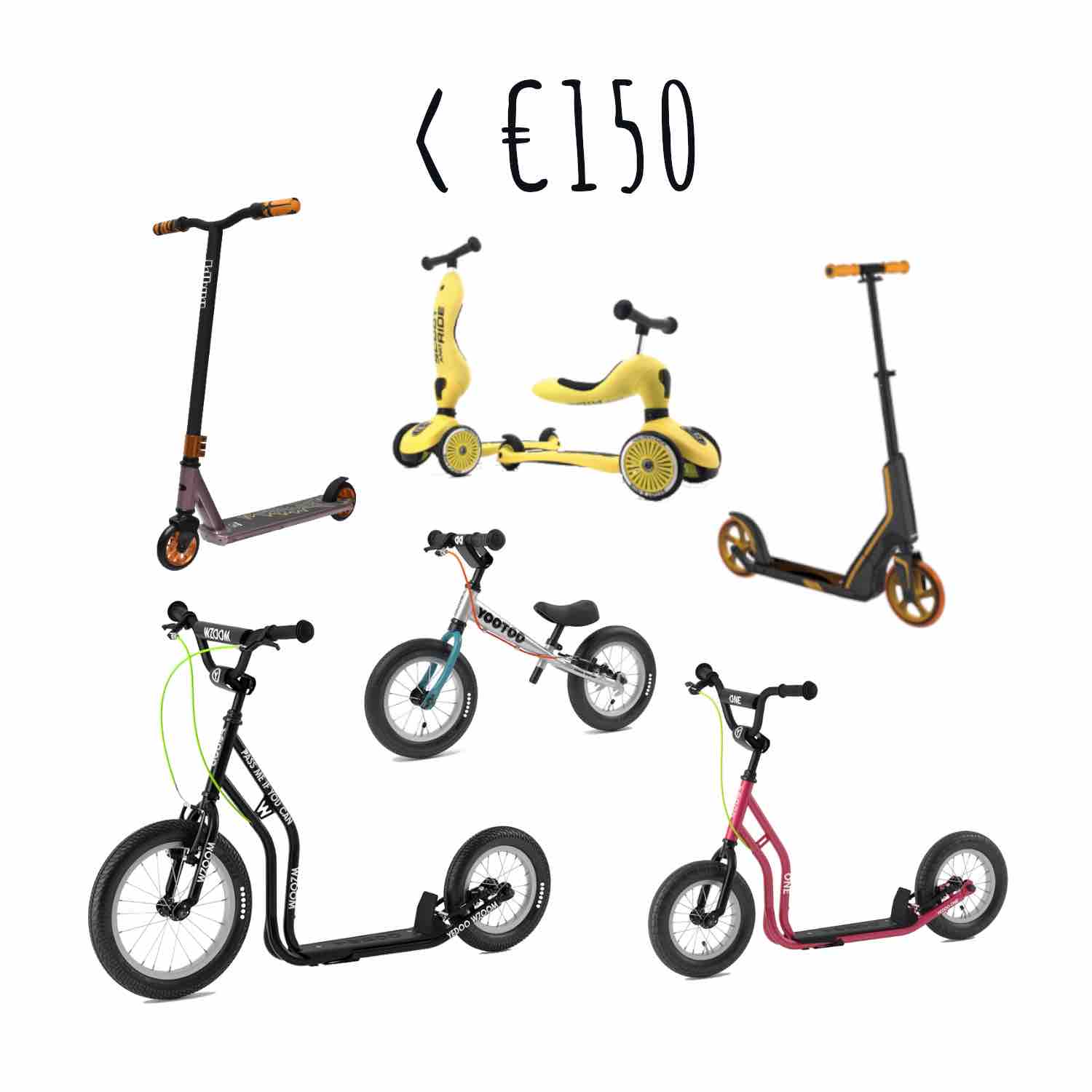 Cheap scooters (under €150)
The #KBS online shop is the proof! It is possible to order a high-quality branded scooter online for an amount of less than 150 €. We stand for quality and the best possible price, plus the very best service - even after the purchase! Without a doubt, you can use our EU branded scooters in a skate park or fun park. The scooters are stable and extremely durable. If you pay attention to the maximum load and replace any wearing parts in good time, you will have a lot of fun with your cheap scooter for a long time. Whether a balance bike, freestyle and trick scooter or kick scooter; Discover the hot #KBS offers and all cheap scooters for children and adults now.

You can find scooters of the biggest and best brands at a price between 150.00 € and a maximum of 300.00 € in the following category. And the upper class of all scooters is just a mouse click away: kickbikes and scooters from € 300.00. Whatever your choice, we are absolutely sure that we can deliver a 1A scooter to your front door at an attractive price.