---
Buy your new Triad Drift Trike here. KBS and Triad Trikes offer high-quality, high-performance, race-ready drift machines right out of the box. Triad Trikes is passionate about encouraging people of all ages, genders and walks of life to get outside and experience the world of drift trikes. It's guaranteed to put a smile on your face! At #KBS you buy your new trike with free shipping, it will be delivered within 1-3 days throughout Europe with tracking.
Buy a funsport trike
Drift trike bikes are a real guarantee for great fun and hours of downhill fever. In the #KBS Funsport Shop we offer you the high quality and brand new downhill trikes of the top brand TRIAD. The original plan was to offer the trikes for kids between the ages of 7 and 12. Today we see that young adults also find their way around perfectly on the trikes and have successfully mastered a number of downhill sessions. If you look at the individual components, for example the hydraulic disc brakes, you can quickly see that this is a very serious generation of trikes.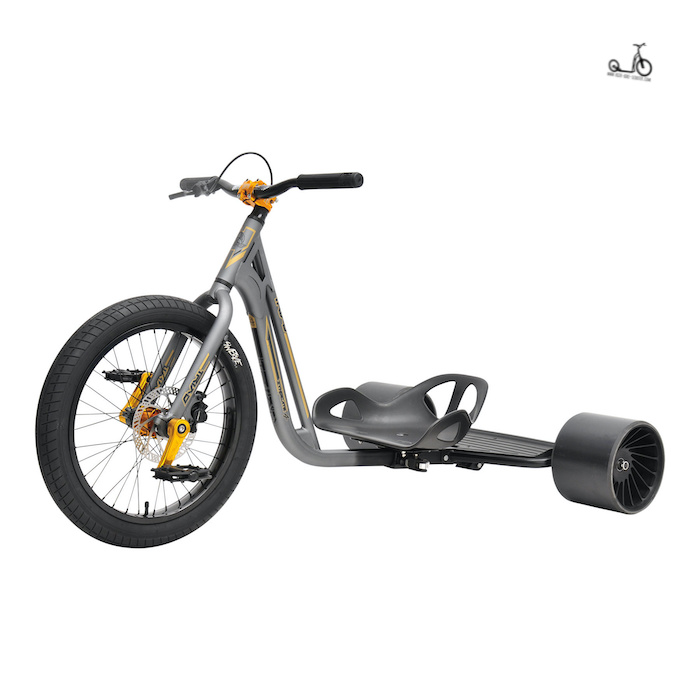 Trike Drifting or Drift Trikes for downhill racing, many new German words that describe a very hot new hobby. Gliding down a slope while sitting on a trike and cruising, that's the best way to describe downhill trike drifting for all beginners. Trikes have a seat and handlebars that are very reminiscent of a mountain bike or BMX bike. The front fork is super stable and built on a special trike frame. A pneumatic tire is mounted at the front, and there are two special plastic roller wheels at the rear.
With the modern triad trikes you can very well do daring drifts and races on all asphalted slopes. The drift trikes are the latest craze on all downhill routes. Every curve becomes a spectacle! The very striking thick design of the various Triad Drift Trikes hits the spot. Trikes are pure fun sports and action sports. Click on the available models and convince yourself of the high-quality components.
We would be happy to advise you on buying your new trike before you place your order. We celebrate the quality trikes from Triad and look forward to an extra load of fun for the respective customer with every purchase. Click on the following link for an overview of the best action sports helmets. We recommend a good helmet to every trike rider at all times. If you like, you can also order a pair of gloves, so you always have a firm and safe grip on the handlebars of the trike.
Real downhill and crusing fans will find a selection of the best downhill longboards in addition to the latest drift trikes. Together with a good longboard in the trunk, fun on the mountain with all your friends is guaranteed. Click here directly for the longboards, or back to the page with all #KBS Funsport articles of the current season.