Fun Sport
Skateboards, inline skates, longboards, roller skates and everything else that is fun can be found here!
Funsport Shop
Buy Funsport branded items online at a fair price! We are your number 1 fun sport and action sport brand shop with the best selection and the sharpest prices. In our shop you will only find high quality fun sport articles from the best brand manufacturers in the scene.
We from the #KBS Funsport Team know the differences and quality features of the best-known funsport articles. We deliberately carry 100% branded goods from the hottest brands. You order your new fun and action sports items at #KBS at a low internet price.
Are you looking for a new brand of skateboard or are you looking for an affordable longboard to cruise? Do you want to buy your first roller skates or maybe a new pair of inline skates? Are you a street hockey fan and need some spare rolls or a new goal set? We are there for you and deliver your quality fun sport items to your doorstep within 1 - 3 days across Europe.
Beginners, career changers and professional athletes benefit daily from the attractive prices in the #KBS Funsport Shop and Actionsport Outlet online. We are known among skateboard freaks, longboard pros, inline skate fanatics, street hockey enthusiasts and above all among all roller girls. The hot Roces roller skates in cooperation with the Chucks brand are a real bestseller for the 2021/22 season.
Brand new in the #KBS offer are the trikes from the well-known fun sports brand Triad. Absolutely great fun is guaranteed, and the new trikes for kids, teens and adults are also a real eye-catcher. Trikes are the trend of the 2022 season and will soon be seen at every spot.
Roces, Triad, CCM, Tempish and Winnwell are just a few of the trendy brands from the #KBS Funsport Shop online. We have been living the style and spirit of fun sports for years, Santa Cruz in California perfectly reflects the #KBS fun sport feeling. Our customers live in Berlin, Cologne, Paris, Brussels, Barcelona and many other fun sports hotspots in Europe. But also in the country there are more and more fans of the latest fun sports such as off-road trike driving.
A place where skateboards, longboards, quad skates (roller skates), inline skates as an inline skating variant with fitness skates or with performance inliners for aggressive skating. Where BMX riders chill out with roller skaters, where skateboarders and inline skaters rock the local bowl together, there is a place where you might meet our team one day.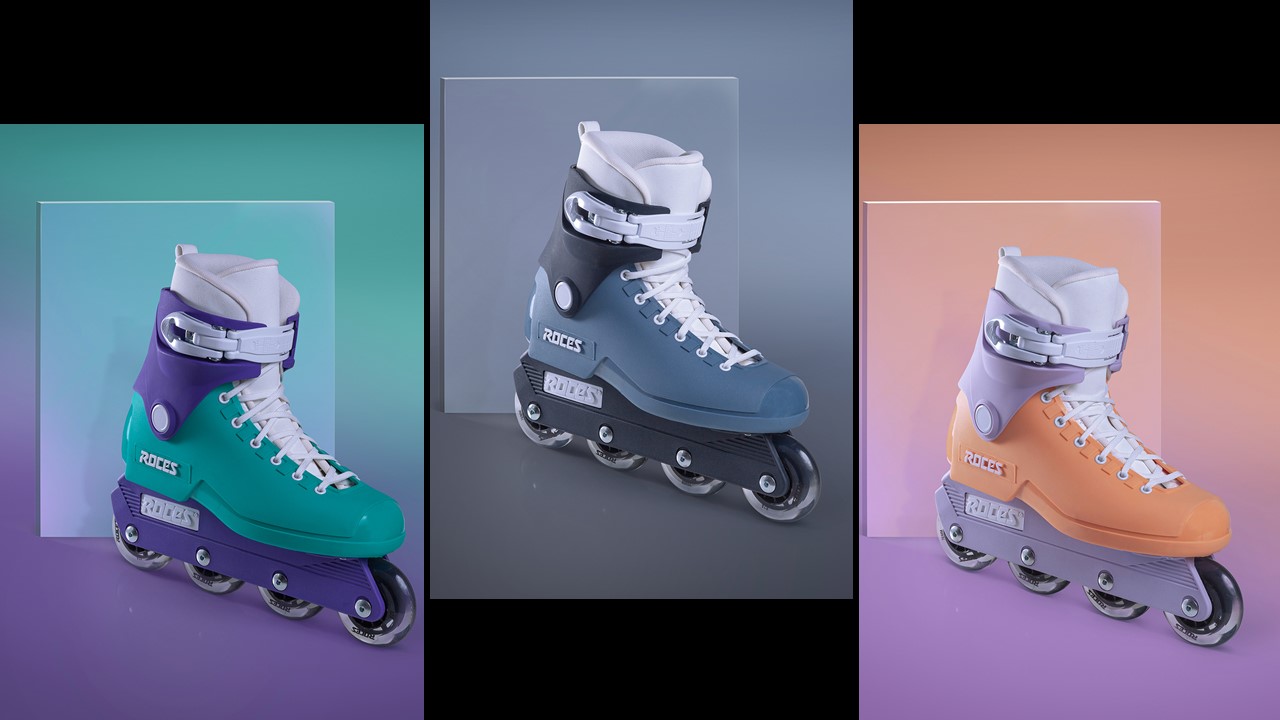 Funsport Categories
In the #KBS Funsport Shop there are various categories so that you can find your favorite funsport items quickly and easily. You can also use the interactive search filters in each of our shop categories. You have the choice of sorting by price or publication date and are guaranteed to find your fun sport articles in no-time.
We supply you with articles for recreational skating, we have roller skates for children who grow with the little ones. There are skateboard decks that impress even the toughest pro rider, and of course the right spare parts for every fun sport item, such as hard rollers for inline skates, speed skates spare parts, skateboard roller sets to replace yourself including ball bearings and much more.
Aggressive skates, roller skates and inline skates for extra high speeds are particularly popular fun sport items. Trikes and retro roller skates are just getting really fashionable and are guaranteed to be widespread in the near future. Our funsport shop team is familiar with drop through longboards, as are rail grinds and heavy slides.
Talk to us, we speak your "Funsport" language and understand your request. For more information you can find all other #KBS Funsport categories below. There is extensive information material about our quality fun sport articles everywhere. Check the shop categories and the product pages. Our young, modern customer service will be happy to answer your questions on all channels.

Skateboards and Longboards
Skateboarding has played a role in the life of one or the other team member from the #KBS Funsport Shop since the 1980s. Our first skateboard decks had the classic cut now known as the retro cut. Plastic grindrails and thick stoppers on the tail are no strangers to us.
Shapes are almost completely based on the archetypes of the classic first skateboards. The wheel was not reinvented; new materials and manufacturing techniques came into play.
Skateboarding has seen many ups and downs over the past 40 years. There was and always will be a loyal following of real hardcore skaters. Streetsurfing describes the idea of ​​longboarding very well. Endless rails, ripping bowls and shredding verts is the other end of skateboarding.
The real carver and cruising feeling emerges very quickly on a Tempish Tropic T-Cruiser. Just like on the chic, slightly larger Tempish Surfy II longboard with 32.5 inches. Both completes are real all-round longboards with which you can also rip very well in the surf bowl.
The Tempish Amar Longboard with 36 inch deck length brings you "All around the Globe" and much further. A real #KBS favorite is the Tempish Moravia, slightly shorter than its big brother the Amar and very stylish. Just like we imagine the perfect longboard.
All pintail, drop through, skate dancing and street surfing fans get their money's worth with us. We deliver the hottest shapes and the highest quality decks to your doorstep at a real internet price.
The #KBS Funsport Skate Team will be happy to advise you on the perfect skateboard or longboard for your preferences. We carry all shapes from Tempish and Roces. Of course, there are also spare and wearing parts for every skate deck at a low price.
Hockey and Street hockey
Street hockey inline skates are one of the specialties of the #KBS Funsport Shop. In addition to our large selection of regular inline skates for the whole family, we also offer special high-quality and affordable street hockey inline skates. With us you will find the very best models with which you are guaranteed to play through several seasons.
CCM is our street hockey brand that has our fullest confidence. We deliver all CCM street hockey items quickly and cheaply across Europe to all private customers. Particularly favorable offers for associations and funding agencies are possible on request. We are always happy to support your street hockey project. The #KBS team has had a heart for ice and street hockey since the 90s.
Order a great goal bundle including goals and ideally the right clubs for all left and right-handers. We offer the entire range of accessories in the shop to match the new street hockey inline skates. Send us an email or call us if you are looking for suitable street hockey protective equipment.
If you wish, #KBS can put together a complete set of ice hockey or street hockey equipment at an unbeatable price. We look forward to your inline street hockey and ice hockey request (s).
A special feature of the street hockey inline skates from the top brand CCM are the extra stable shells of the skates. Your feet are really well protected, and yet the inline skates are extremely light compared to models from the Far East. Trust in the usual CCM quality and you are guaranteed to be good on every field.
Roller Skates
There is a very good chance that you are about to buy your first pair of roller skates. Here in the video a real professional roller skater explains to you how the first few minutes on the new roller skates don't turn into a failure.
Roller skates are great fun sports articles, but ask for a lot of practice if you have never played a comparable sport. Roller skating is similar to surfing in this respect, it just looks; But in reality it is a relatively difficult kind of fun sport. Get up and try until it works as you have imagined it in your mind is the motto. After a few weeks, the learning curve goes up steeply and you race through your neighborhood like the next roller girl or boy.
Inline Skates
All older inline skate riders among you are probably still familiar with the name Rollerblade. The original form of inline skates has its origin somewhere between Germany and America in the ice hockey world. Rollerblade, Inc. launched the first commercial inline skate version as we know it in 1984. Source Wikipedia America: Inline Skating
Of course you can also rollerblade with a street hockey inline skate, a fitness inline skate or a progressive model offers a little more comfort and support for the respective type of inline skating. Here at #KBS you can find inline skates of all types and sizes.
We are currently running the latest releases from the top brands Roces and Tempish. Every year, our inline skate supplier provides us with the very latest offers long before the planned publications. Discover the mega cool Roces Retro Inline Skates and let the rollerskate fever in you (again) wake up!
Inline skating is easier and faster to learn compared to roller skating. Beginners can safely drive their first fast corners after just a few days without falling. It is very beneficial if you have experience in figure skating or playing ice hockey.
In 2022 there will be inline skates with two, three, four or even five wheels. We have agreed on the classic inline skates with four wheels in a line. We have a fine selection of the best inline skates with four wheels.
Many of the #KBS children's inline skates are designed for shoe sizes of up to, which means that they grow with the little ones. Insider tip: Order the kids a street hockey stick with the new inline skates. In this way you learn to keep your balance in a playful and even faster way and to maintain full control at all times.
We deliver various high quality spare wheels for your inline skates. Here in the #KBS Funsport Shop we have all common diameters and PU compounds. We would be happy to advise you on the perfect new wheels to replace yourself on your favorite inline skates.
Trikes
Trikes are the latest craze of the current and upcoming season. If you hear Trike in the #KBS Funsport Shop, then we're talking about trikes for young adults. Real trikes for real fun sport fans. Our trikes appeal to teens and all adventurous adults. Drifting and heavy downhill descents, that's what a trike stands for and this is where the modern trikes from Triad are at home.
Our top trike brand Triad builds trikes for children from approx. 6 years. Up to a height of around 1.70 m and more, the trikes are very easy to use and can be used without great effort. Teens and young adults soar down the steepest hills with the Triad Trikes.
In addition to cool downhill races, large parking lots or empty parking garages are real playgrounds for all trikes. Discover all #KBS Trikes now and get to know the new fun sport articles.
BMX Bikes
BMX bikes are real bikes and not a fun sport item in every respect. Crashes with a BMX bike are the most violent you can imagine in the fun sport world. Here at #KBS you can find high quality beginner BMX bikes at a fair price. We also offer all experienced riders real Pro BMX bikes for the next contest. Proud parents order their kids' first children's BMX with training wheels from us.
Check out your own extra large bicycle and BMX category in the #KBS online shop. BMX bikes of all types and accessories for all BMX bikes, continuously available and quickly delivered.
Freestyle scooter
The Kick-Bike-Scooter Funsport Shop was built on trick scooters and stunt scooters. The first items in our shop were modern, high-quality stunt scooters at an absolute bargain price. You can already find freestyle scooters from our shop all over Europe. We are proud that we have enabled many kids to take their first steps into the world of action and fun sports.
We also offer our own large shop category for the very popular freestyle scooters. Click on the following link and discover all stunt scooter parts, stunt scooter accessories and all stunt scooter completes at #KBS.